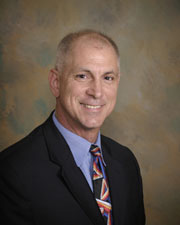 Charles (Chuck) M. Greene, has practiced law for twenty-five years and has tried cases across the country. He has been recognized by his peers as one of the top civil and criminal litigators in Central Florida. He is board certified as a Civil Trial Expert by the Florida Bar, a honor earned by less than two percent of Florida lawyers. He is also AV Preeminent-Rated by Martindale-Hubbell in civil and criminal trials. In 2013, Mr. Greene was selected for inclusion in Florida's Super Lawyers.
Mr. Greene has a reputation as a masterful tactician who applies sound judgment with an appropriately tempered aggressive edge. He has been a frequent guest and commentator on many national and local television stations and other media outlets. His views are frequently sought about criminal and civil cases in which the public has an interest.
Mr. Greene, a Florida native, was born in Tallahassee and moved to New York after high school to study acting. Eventually, he stayed in New York to attend college (where he continued to act) and then law school.
Mr. Greene is a 1984 graduate of the State University of New York at Albany, where he obtained a degree summa cum laude in political science and English. In 1988, Mr. Greene received his J.D. cum laude from Albany Law School of Union University, and was elected to the Justinian Honor Society.
Upon graduation from law school, Mr. Greene was hired under the Attorney General's Honors Program and joined the United States Department of Justice, where he received an appointment as a United States Trial Attorney. As a U.S. Trial Attorney, Mr. Greene was responsible for a large docket of cases that stretched across the Northeast and Midwest. Mr. Greene tried and won numerous cases before juries in seven states. In 1991, he received the Justice Department's Outstanding Trial Attorney Award.
In 1993, Mr. Greene returned to Florida where he concentrates his practice in State and federal litigation matters as well as criminal defense. Mr. Greene represents many businesses and individuals in a broad spectrum of commercial matters, including cases involving shareholder disputes, breach of contract, conversion, civil theft, unfair and deceptive trade practices, tortious interference, fraudulent transfers, and many commercial disputes involving "white collar" fraud. Among other matters, Mr. Greene represented the Receiver of National Heritage Life Insurance Company, and was instrumental in recovering tens of millions of dollars that were the subject of fraudulent and negligent acts perpetrated on National Heritage by persons inside and outside the company.
Mr. Greene also represents clients in a variety of federal criminal matters, particularly in "white collar" cases involving alleged RICO, fraud, tax, and securities law violations. The criminal practice of the firm also includes the representation of clients facing drug charges, both in federal and state court, as well as clients facing a wide range of felony and misdemeanor charges in the Circuit and County Courts of Florida. Among other cases, Mr. Greene represented a local police officer accused of trading drugs and surveillance information for sex in a highly publicized federal case in which his client was acquitted.
In 2004, Mr. Greene was appointed by Chief Judge Fawsett to be Representative of the Criminal Justice Act ("CJA") Panel, for the United States District Courts for the Middle District of Florida. Mr. Greene served as MD Florida CJA Panel's representative to the Court and to a National CJA panel. His appointment was later renewed by Chief Judge Conway. Mr. Greene is also a member of a Committee comprised of lawyers and various members of the judiciary which oversees the CJA Panel for the Middle District of Florida and proposed rules and standards governing panel members.
Mr. Greene has served as chairman of the Florida Bar Greivance Committee in Orlando and received recognition for meritorious public service. He has also been recognized by the Orange County Bar Association for his pro bono services to the  indigent.
Education
J.D. cum laude from Albany Law School of Union University; cum laude; Justinian Honor Society B.A. State University of New York at Albany; summa cum laude
Bar Admissions
Florida
Georgia
New York
United States Supreme Court
United States District Courts for the Southern, Middle, and Northern Districts of Florida
Middle District of Illinois